Why You Should Turn Your Ceiling Fan on in the Winter
Disclosure: Some of the links below are affiliate links.
A ceiling fan that rotates clockwise circulates warm air, which can help make a room feel warmer and reduce your heating bills.
Today, I told my wife that we need to turn the fan on in our daughter's room to help make it feel warmer. "But it already feels cold in her room," she interjected. I reminded1 her that a ceiling fan will give either a cool or a warm breeze, depending on its direction:
In the summer, a ceiling fan should rotate counterclockwise to generate a cool breeze.
In the winter, a ceiling fan should rotate clockwise, at a slow speed,2 to help circulate warm air.
|   | Summer | Winter |
| --- | --- | --- |
| Rotation | Counterclockwise | Clockwise |
| Breeze | Cool | Warm |
| Speed | Any (faster is cooler) | Slow |
For most fans, you change the direction of the rotation by flipping a small switch on the fan. But the fan in my home office – an Orb Indoor 3-Blade Smart Flush Mount Ceiling Fan 44in Brushed Nickel with 3000K LED Light Kit and Remote Control3 – allows me to change the direction from an app on my iPhone (or iPad) or from the remote control: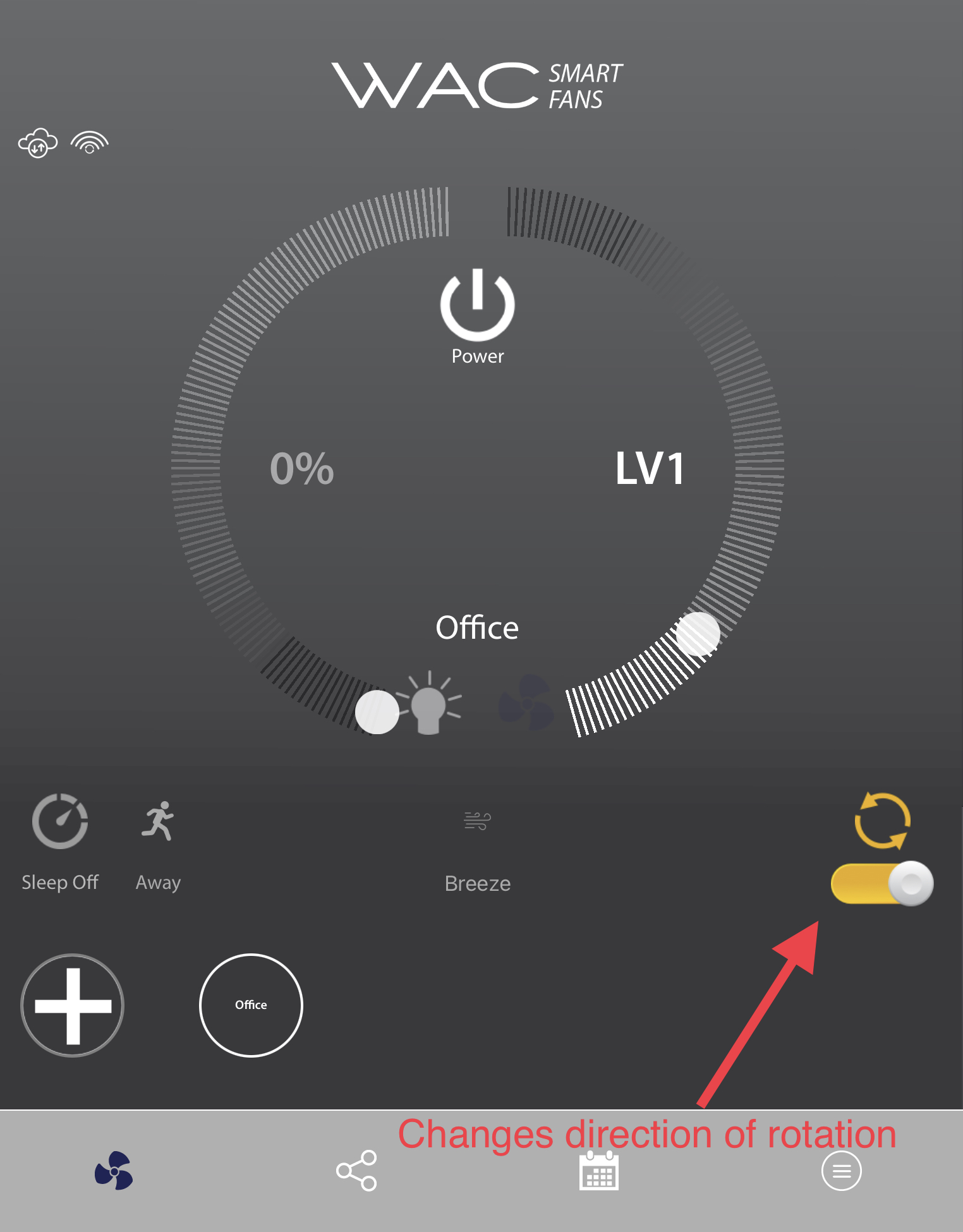 How does a ceiling fan rotating clockwise help make the room feel warmer? Cold air is denser than warm air, so it settles on the floor and pushes the warm air up to the ceiling, where it gets trapped.4 When a ceiling fan spins clockwise, it pushes the warm air across the ceiling, down the walls, and back into our living area.
---
I state that I "reminded" my wife because I first learned about changing the direction of a fan's rotation from her father (my father-in-law) when I was helping watching him install ceiling fans for us. ↩

"Fans should also spin at a low speed so they can pull cool air upward. The gentle updraft pushes warm air, which naturally rises to the ceiling, down along the walls, and back to the floor." Team HomeServe, As the Seasons Change, So Should the Direction of Your Ceiling Fan, HomeServe Blog, Dec. 1, 2020. ↩

It was challenging to find a good, smart (wifi-enabled) ceiling fan that was the right size for my small home office. I recommend the 44in Orb ceiling fan, but I wish it had Apple HomeKit integration. I have yet to figure out how to connect the fan using Homebridge. ↩

"[T]he higher the ceiling in a room is, the more beneficial operating a ceiling fan during the winter months will be. The reason for this is due to a higher ceiling ends up with way more heat trapped up top than that of a standard 8' ceiling." Jeff Eller, Ceiling Fan Direction - Winter vs Summer, Modern Fan Outlet, 2017. ↩